What are the four major modes of transportation for logistics?
Logistics can be an extremely complex endeavor because of all the variables at play. One of the most significant variables is the mode of transportation used to move goods.
When choosing from the major modes of transport, many companies are inevitably faced with two competing factors: speed and cost. Getting goods to their destination quickly is usually preferred, but faster often means more expensive. Sometimes, speed isn't as important, and factors such as cargo capacity and limited route options drive decision-making. Importers, freight forwarders, and other types of businesses often utilize multiple modes of transport to reduce costs while ensuring on-time delivery.
1. Road transportation
Road can be considered a convenient mode of transportation for a variety of reasons. Most places around the world feature extensive road networks that connect facilities locally and across continents. In addition to speed and affordability, road transport allows for easier freight tracking, flexible scheduling, and straightforward loading and unloading. Often, trucks and vehicles provide the best, safest option for transporting many types of hazardous or perishable goods.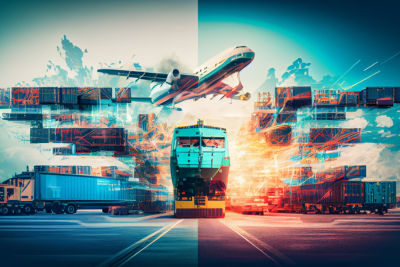 There are some downsides to road travel. Extensive road infrastructure exists, but some roads are vulnerable to inclement weather, especially in northern climates and areas that experience intense storms. Persistent driver shortages in Canada and the United States increasingly impact the freight industry. Additionally, road conditions and traffic congestion can result in delays, especially in major cities and urban centres.
2. Rail shipments
When large volumes of freight need to move, rail transportation offers some advantages over road deliveries. Railroads have significant capacity and the ability to scale up as required, providing the equivalent capacity of hundreds of tractor-trailers. Consistent rail schedules provide logistics managers with reliability and affordability for long-distance and intercontinental transport of bulk and heavy goods. Railroads are seldom closed due to weather, as trains typically remain operational through heavy fog, snow, or rain.
A disadvantage of rail transportation is its lack of flexibility compared to other modes. Rail infrastructure isn't as flexible or commonly available as road infrastructure. Door-to-door service isn't possible, requiring road transportation to finish the last mile of delivery. Trains can also be slower than other modes, depending on the load carried, the condition of the tracks, or the type of locomotive used.
3. Ocean freight
Ships handle the vast majority of international logistics, transporting an impressive 90 percent of all goods. Though not the fastest international logistical mode, ocean carriers offer other benefits. Primarily, they're more affordable than air transport, thanks to lower fuel costs and larger carrying capacities. As such, marine carriers are the go-to for shipments of bulk raw materials and some agricultural commodities.
However, ocean transport has its drawbacks. For instance, it may not always be the most economical choice. Like rail, the final mile of delivery usually requires road transportation. Cargo must be transferred to other modes upon reaching foreign ports, adding to both complexity and cost. Marine shipping is slower than other methods, making it unsuitable for expedited shipments.
4. Air transportation
Air transportation is the fastest solution for long-distance shipping, offering a suitable delivery method for time-sensitive shipments and smaller, perishable, or fragile goods. All major economic hubs have international airport infrastructure, connecting businesses to opportunity across the globe. Set schedules ensure predictable delivery times, with the exception of extreme weather events that can be planned around.
The primary downside of air shipping is the substantial cost, including a reliance on expensive and highly-refined fuel. Compared to rail, air freight has limited capacity for both volume and weight. However, its unparalleled speed makes air transportation a crucial link in the global supply chain.
Multimodal logistics connect the four major modes of transportation
Multimodal logistics uses multiple modes of transportation to move freight from the source to the delivery destination. The rise of globalization and international trade has grown the demand for goods that are shipped using multimodal transportation.
Manufacturers across the world reduce costs by loading goods onto massive freighter vessels. Ships transfer their containers at ports and connect with other modes of transportation to move the goods to warehouses, retail shelves, individual consumers, or other destinations. Similarly, rail and air transportation often require another mode of logistics to connect shipments to their final destinations.
Ready to connect with a seasoned professional who can guide you through all the steps of your shipment's journey? Reach out to one of our experienced logistics coordinators.
Freight solutions. It's what we do.