Section 301 of the
U.S. Trade Act of 1974
authorizes the U.S. president to take all appropriate action, including retaliation, to obtain the removal of any act, policy or practice of a foreign government that violates an international trade agreement or is unjustified, unreasonable or discriminatory and that burdens or restricts U.S. commerce.
This June, President Trump imposed Section 301 tariffs on a wide range of goods from China in response to U.S. concerns regarding forced technology transfer, hacking, and intellectual property theft. The tariffs took aim at several thousand products — mostly industrial goods and components like fiberboard, woven glass fiber, and electrical conduit tubing.
Businesses Beware
The 301 tariff amount is currently 10% and is owed in addition to regular duty (when owed) on applicable goods. On January 1, 2019, the 301 tariff will increase to 25% (again, in addition to any regular duties).
UPDATE:

Over the weekend (December 1, 2018), President Trump agreed with China President, Xi Jinping, that the scheduled increase from 10% to 25% of Section 301 Tariffs, will not go into effect on January 1, 2019 as planned. There is a 90 day period during which negotiations will be conducted and if not completed to the U.S. satisfaction, the 25% increase will be completed at that time.

During this 90 day period, the U.S. and China will begin negotiations on forced technology transfer, intellectual property rights, and non-tariff trade barriers. Finally, China has also agreed to immediately start purchasing agricultural, energy, and industrial goods from the U.S.

This is good news for U.S. importers and exporters. Importers get a 90 days extra of only 10% additional duties and exporters should get market access back in China. Stay tuned for further updates as they develop.
Many U.S. importers are looking for ways to minimize or eliminate the impacts of these additional tariffs on their businesses. Sure – we all want to save on expenses where we can. But don't be lulled into a false sense of security.
Our U.S. trade consultants have heard of various evasive – and
illegal
– maneuvers that suppliers may suggest to skirt around 301 tariffs. Some of these include:
Routing Chinese goods through a different country (such as Canada) and then changing the country of origin on the U.S. import documents and/or the product themselves

Changing the goods' HS classification to something that is not subject to 301 tariffs
Declaring a lower value so a lower duty is applied
All of the above are considered
fraud
and are
illegal
. Possible repercussions could include crippling fines by U.S. Customs, loss of importing privileges into the U.S., loss of exporting privileges to the U.S. for the supplier, and jail time for company CEOs and/or executives in charge of procurement.
For their part, U.S. Customs has already hired 60 new auditors to focus on these issues and prosecute offenders.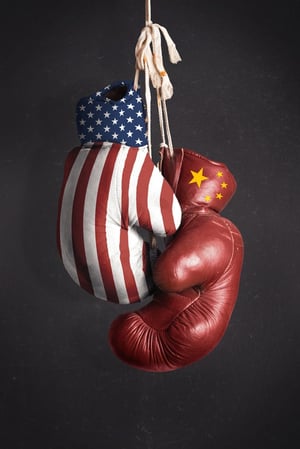 What can you do about this?
Customs compliance is very serious business. Make sure you get it right by maintaining accurate records and ongoing communication and coordination with your trade partners – customs brokers, trade consultants, freight forwarders, and so on. And specifically:
1. Play by the rules.
Do not take advice from suppliers who suggest ways to avoid duties – in spite of any convincing-seeming pitch. Always check with your broker and/or a customs attorney if you're not sure.

2. Use one invoice.
Do not accept two different invoices from your supplier – one for the supplier and a second, lower-valued one to present to U.S. Customs.
3. Be vigilant.
Watch for goods from China being routed through a different country. This is fine, but it is not permissible to change the country of origin on the customs documents as a result.
4. Do your due diligence.
Question your suppliers if a product you have been receiving from China suddenly shows as coming from a different country. In fact, question anything that seems fishy or just too good to be true.
5. Weigh your options.
As the importer, it is your prerogative to import goods from your preferred source. In some cases, it will make sense to source from a country that will not result in heavy tariffs.
6. Ensure accuracy.
Be sure the tariff classification of your goods is correct on all customs documentation.
7. Assemble foreign parts locally.
Consider importing parts from various countries and assembling the final product in the U.S. or in Canada – this is a legal way of changing the country of origin (but make sure you understand how it works – different minimum quantity and other requirements are in place and vary depending on the end product and the original country or countries of origin of the materials).
8. Leverage the First Sale for Export (FSFE) program.
If you buy a foreign-produced item from a U.S.-based intermediary, consider accessing the First Sale for Export program (FSFE), a duty reduction program for eligible products imported into the U.S.
Our U.S. customs brokers have extensive experience importing and exporting goods. We can help make sure your import practices are compliant with U.S.
and
Canadian import rules. To learn more...
Information provided by: Customs Consulting Dept. - Cole International