*USMCA/CUSMA replaced NAFTA on July 1st, 2020. Read More...
At the end of January 2020, President Trump ratified the USMCA free trade agreement, a 2,082-page document replacing the 1994 North American Free Trade Act (NAFTA).
Canada, which calls it the Canada-United States-Mexico Agreement, has yet to ratify the document, although that is expected to be forthcoming.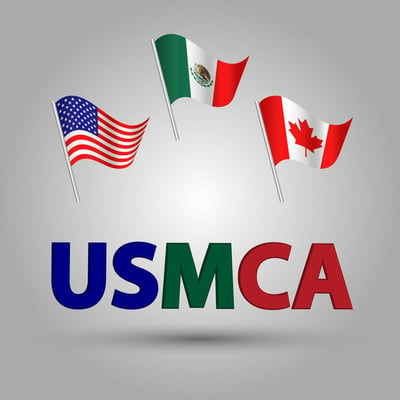 The agreement affects several key industries, including vehicle manufacturers, agriculture, especially dairy, and tech companies. USMCA/CUSMA also imposes strict environmental, intellectual property, and labour controls.
In terms of documentation, and worth noting for North American importers and exporters: the new agreement eliminates the NAFTA Certificate of Origin and instead provides a list of minimum requirements to claim origin.
Automotive
NAFTA required automakers to produce 62.5% of a vehicle's content in North America. USMCA/CUSMA increases the requirement over a three-year transition period to 70%-75% (based on the type of vehicle and vehicle part).
Additionally, 70% of a vehicle's steel and aluminum must originate, be melted, and poured in North America.
The new agreement mandates that 40-45% of the part of any tariff-free vehicle come from a high-wage factory paying at least $16/hour in average wages—about triple the current average wage in Mexican factories.
Agriculture
The new trade agreement opens Canada's market to American milk, cream, butter, cheese, and other products. In return, the United States expanded access to its market for Canadian dairy and sugar.
In the agreement is also a list of cheeses that Mexico and the United States agree can be marketed without restriction in their countries. USMCA/CUSMA forces grocery stores in British Columbia to include American wines alongside BC wines.
Other features of the updated agreement include:
Stronger labour rules in Mexico;
Decreased protections for pharmaceutical companies selling biologics;
Expanded protections for copyrights;
Protections for tech firms;
The end of NAFTA's system of arbitration; and
A sunset clause requirement each country to review whether they want to continue with the agreement after six years.
Read more about the details of the trade agreement here.
Our customs consultants are here to answer any questions you might have about the progress of the new trade deal and how its implementation will affect you.
Information provided by: NAFTA & Free Trade Dept. - Cole International
Understanding Free Trade. It's what we do.