Supply chain tech: spotlight on food safety
Both industry and consumers know that food safety management needs to be improved.
In the Zebra Food Safety Supply Chain Vision Study (2020), across 13 different types of companies and brands within the supply chain, ranging from distribution and warehouses to grocery stores, quick-serve and full service restaurants:
Only an average of 37% of industry decision makers place complete trust in the industry to ensure food and beverage safety
That figure drops to 20% among consumers—a significant gap in levels of trust.
More and more, consumers want to know what's in their food, where it came from, and they want to know what they're serving their families is safe.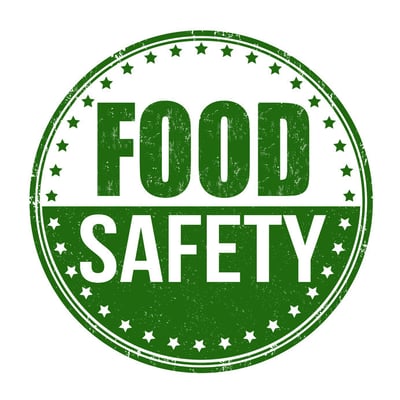 But with recalls off the grocery shelves seemingly every week, consumer faith in food safety is low. They are worried about illness and allergies—and want to know more about the source, quality, and safety of their food.
And more than that: they don't trust the industry to meet the challenge.
82% of consumers say the industry has an ethical responsibility to ensure food safety
60% of consumers would never visit a restaurant again after contracting a food borne illness there
51% of industry decision-makers sat meeting consumer expectations will continue to be a challenge in the next 5 years
93% of decision-makers say they're planning to increase investment in food monitoring technology within the next year
But here's the good news. Advancements in supply chain technology have improved transparency and traceability in the global food supply chain. This means the industry can better meet their customers' needs.
5 steps to maximize technology in food safety
Identify gaps in food supply chain monitoring and highlight them as areas for improvement
Identify requirements and ensure new measures help meet supply chain requirements
Improve visibility and transparency with deeper information and stronger information flow
Improve traceability with the creation of a comprehensive logo or food and beverage products throughout the supply chain
Deploy technologies like mobile scanners, barcode labels, predictive analytics, and RFID solutions to enable a fully integrated system for traceability
So how is the food service industry using technology to improve food safety?
Artificial Intelligence (AI)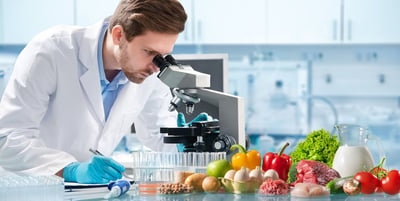 They're using AI (artificial intelligence) to:
monitor and test product at every step of the supply chain
more accurately forecast to manage proving and inventory
track products from farm to consumer to provide transparency.
In Levittown, NY, a Walmart "Intelligent Retail Lab" store has a suite of AI-powered cameras in the ceiling to monitor inventory. The system is able to detect products on the shelf, recognize the exact product it sees (ie. 1lb ground beef) and can compare quantities on the shelf to upcoming sales demand.
AI helps the store associates know more precisely where and when products need to be restocks. And customers will know the products are fresh and in stock when they arrive.
Digitalization
Digitalization is distinct from digitization in that it involves building digital processes to optimize data.
In industry, this can manifest in many ways:
Digital supply chain
Smart manufacturing
Digital products, services, and business models
Data analytics and action as a core competency
Read more about digitally enabled supply ecosystems or integrated supply chains here.
Internet of Things (IoT)
The Internet of Things (IoT) refers to the network of physical objects embedded with electronics, software, , sensors, and network connectivity, which enables these objects to collect and exchange data, often using the Internet.
IoT is used in supply chains is used to offer instant data about a shipment's physical condition using with active tracking devices in cargo loading units including trailers, intermodal containers, air cargo containers, cargo boxes, and pallets.
Hapag-Lloyd, one of the world's biggest carriers, has launched 'Hapag-Lloyd LIVE', its new real-time supply chain monitoring system. It leverages IoT technologies to offer real-time GPS location, temperature, power usage data and alerts.
Blockchain
A blockchain is essentially a digital ledger of transactions that is duplicated and distributed across an entire network of computer systems on the blockchain.
Blockchain offers transparency to all of the network's participants, which can include suppliers, manufacturers, couriers, and end-customers.
Several food service companies are using blockchain, including Unilever, Nestle, Tyson, and Dole. Walmart, for example, uses IBM's Food Trust Blockchain System to keep track of its meat products. The blockchain records where each piece of meat came from, was processed, is stored, and its sell-by date.
Read more about blockchain here.
Technology is advancing supply chains in the food service industry—and all industries. To learn more about supply chain technology advancements and how to maximize your company's efficiency, contact our consulting team today.
Keeping you in the loop. It's what we do.