Explainer: Filling out your Cole Proforma Invoice correctly (U.S. Customs)
At Cole International, we believe that the more you know, the better your goods will go. Our Explainer posts provide valuable information you should know before you make your next move.
We understand that the logistics industry involves complex processes, regulations, and definitions that can be overwhelming to navigate. Cole's Explainer series breaks down key concepts into bite-size knowledge that's easy to consume.
In this Explainer, we'll examine key aspects of filling out your Cole Proforma Invoice and how to avoid common mistakes when completing this type of paperwork.
Proper

Proforma Invoices

: Time well spent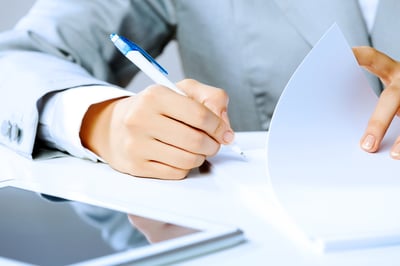 Even though we may be filling out forms primarily online nowadays, in a complex space like logistics, paperwork remains the order of the day. When you are shipping goods between nations, filling out the necessary paperwork is not only essential to keeping your goods moving, but also to getting those goods cleared and avoiding additional fees. Although it sometimes feels like filling out paperwork is time well wasted, in fact, nothing could be further from the truth.
In over sixty years of customs brokerage, we've seen a lot of paperwork. We've also seen a lot of needless delays at the border due to improperly filled out paperwork. Without a properly completed Cole Proforma Invoice, our U.S. customs brokers may not be able to clear the shipment. At a minimum, the shipment will be delayed. Our brokers may have to call you to get additional information. This can often end up with additional communication fees being charged to you and your company.
But all of this can be avoided with a little diligence on your end while preparing your paperwork for your customs broker.
Avoid these common mistakes on

customs invoices
There are many common mistakes we observe customers making on these forms. The most common among these are failing to include the full name and address of the business and not putting in the Internal Revenue Service (IRS) number for the U.S. buyers. There are also often gaps in information around the goods themselves, for instance only showing the description of a good in technical terms or only providing part numbers for the products. Finally, there are often unanswered questions scattered throughout any of these forms, from answering who is paying the charges to what the freight amount is and more.
Needless to say, if we don't have all the information, we can't help you comprehensively.
Help us help you – best practices for filling out your Cole Proforma Invoice
Keep in mind, every importer is unique and what you need to fill out on your forms will differ from what your importer neighbour will require. The information required will vary depending on what is being shipped.
That said, here are a few key starting points to help ensure you fill out your Cole Proforma Invoice accurately and comprehensively:
Always include the full names and addresses of all parties involved (seller, buyer, ship to's).

Always include the IRS number for the U.S. buyer.

For each item being shipped, include:

country of manufacture;

the Harmonized Tariff System (HTS) code (if available);

a description of the product (in laymen's terms);

the quantity being shipped;

unit price;

total value;

the invoice currency.
Beyond this, the overall best practice is to simply slow down and take your time. Complete any and all blank fields required and take care to answer all questions on the form. Spending time filling the form out comprehensively will save time and hassle down the line, guaranteed. Don't forget – your U.S. customs broker is available to help or answer questions if they arise.
The more you know...
If this Explainer post has been helpful, we invite you to continue growing your knowledge base by exploring our earlier Explainer posts:
Explainer: Origin of goods - Canadian customs
Explainer: What is the difference between a refund and a drawback?
Explainer: container shortage and price increases for ocean cargo
At Cole International, we don't just help keep your goods moving. We believe education is key to your success. After all, the more you know, the more you ensure your goods get where they need to go. We've been in the customs brokerage business for more than half a century. When you're ready to ship, we're ready to help.
Customs Brokerage. It's what we do.