CARM R2 Update - Get ready for implementation
Importers have a bit more time to get ready for the Canada Border Services Agency (CBSA) Assessment and Revenue Management (CARM) system. Businesses should take advantage of the latest delay to prepare for CARM R2.
The full implementation of CARM was expected to go forward in Q4 2023 but was delayed once again, this time until Q2 2024. By then, CARM is expected to become an unavoidable requirement of doing business in Canada. Companies and individuals moving goods across the Canadian border must adapt to the way CARM will modernize the process.
Prevent delays by aligning with CARM now
CARM will soon be a mandatory part of doing business in Canada. Importers, freight forwarders, carriers, and customs brokers involved in moving goods across the Canadian border need to prepare for the final rollout of the system, likely by Q2 2024.
CARM will impact companies of all types and sizes, including individual importers and large enterprises. Getting registered, adapting key systems, and adjusting business workflows to accommodate CARM will be the best way to avoid preventable delays and supply chain interruptions.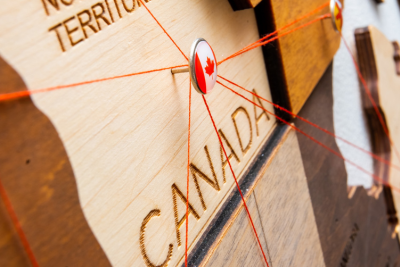 A primary objective of CARM revolves around simplifying and streamlining importing processes through an online self-service system. More than $750 billion in trade and $30 billion in revenue will be managed through the online portal.
The CBSA will use CARM as the official system of record for collecting duties and taxes. Additionally, importers and their partners will use CARM to manage information and CBSA interactions, such as statements of accounts, requests for rulings, and transactions.
Who needs to connect with the CARM client portal?
A variety of trade chain partners will need to use the CARM client portal (CCP) as part of the importation process. Organizations and business groups required to adapt to CARM include:
Importers of all types of goods
Cross-border carriers
Customs bonded and sufferance warehouse operators
Operators of duty-free shops
This doesn't represent a complete list of groups that will be required to use CARM when importing goods. Anyone involved in paying duties and taxes or managing information for importing goods into Canada should expect to use the CCP. Despite a deadline that's shifted multiple times, it's best to register with the CPP well before the expected final rollout.
CARM R2

and your customs broker

The earlier you get ready for the inevitable shift to CARM, the better. Importers that haven't started to adapt should immediately start to work on getting registered through the CCP. It's also a good idea to communicate with supply chain partners to ensure their CARM R2 readiness, preventing potential disruptions due to the non-compliance of others.

After registering in the CCP, you'll need to approve your customs broker as a provider. Once access has been granted, your broker will be able to see that you've completed this requirement and confirm that they show as authorized with the CBSA to continue your services in CARM. If you work with multiple providers, you should choose one as the primary provider, with the other brokers listed as limited providers.

The primary provider will have extended CARM visibility, while the limited brokers will have restricted visibility. It's important that you select one customs broker for full visibility to avoid potential complications. Doing so will grant full visibility on a business management level, enabling your customs broker of choice to provide full support when dealing with the CARM system.

Cole provides you with half a century of global shipping and freight experience as a full-service freight partner. Contact our skilled team of customs brokers to seamlessly adapt to a constantly changing regulatory environment.
Being prepared. It's what we do.