4 ways to build supply chain resilience
If the beginning of the 2020s taught us anything, it's that flexibility and the ability to pivot are crucial to supply chain success. While disruptions due to the pandemic and inflation seem to be easing up, an increase in extreme weather events plus rising sea levels suggest that supply chain woes are not over yet. It's possibly never been a better time to take a closer look at each step in your supply chain and determine ways to build resilience in the face of unpredictability.
Fortify your supply chain proactively
After enduring what felt like a steady stream of supply chain chaos, it's understandable you may want to pause and take a breath as we enter a new year - but be careful not to let down your guard. Instead, consider using that pause to debrief how your own supply chain processes held up throughout the numerous unforeseen disruptions of the past three years. Applying the lessons you have learned from the past few years and planning proactively will set your company up for a stronger future.
The COVID-19 pandemic may be over, but disruptions to the supply chain are not. While inflation and threats of a recession still loom over the economy generally, the latest buzz in supply chain news revolves around the impact of climate change on manufacturing and shipping. Whether you perceive this as climate change or not, it is clear that more and more extreme weather events, plus rising sea levels, are playing havoc with supply chain processes for companies worldwide.
For example, in the past year alone, we saw the Mississippi river dry up, causing barges and boats to be stuck and the river closed to shipping in order to be dredged. We also saw historic freezing weather in Texas that led to a significant blackout that, among other issues, forced major semiconductor plants to close. Flooding in central China caused disruptions in supply chains for a broad range of commodities as well as forced Nissan to close one of its plants. Closer to home, severe flooding in BC last summer also led to the closure of a regional oil pipeline, along with several key railroad and highway connections to our largest port. Finally, Florida's orange growers are about to harvest the smallest crop of citrus in 90 years, in large part because of an unexpected freeze, plus two hurricanes.
Regularly reading our freight updates and glancing around at stories like the ones above make it clear that regardless of whether or not you believe in climate change, this is a pivotal moment for anyone moving goods around the world; an invitation to fortify your systems and processes if there ever was one.
Seen in this light, taking some time to reflect on all steps in your supply chain and fortifying them against extreme weather events and other climate risks may be among the best things you can do for your company as we begin 2023.
Awareness builds resilience
The climate change conversation can be remarkably fraught; some people deny the science, and others feel significant fear and anxiety about what could happen. Making a plan to strengthen your systems and processes can help to allay fears and leave you feeling confident you are prepared in the event something should happen.
Here are four steps you can take to get started: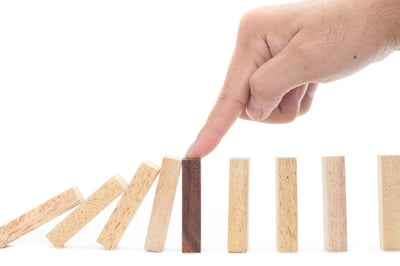 1) Be flexible with your expectations.
The first step to take is ultimately quite personal: check your expectations when it comes to climate. Challenge beliefs that the weather is stable and any other unconscious biases you may have about the weather (for example, thinking that because your company is not near a large body of water you are protected from rising sea levels.) The clearer you see your beliefs and biases, the better you will be able to plan effectively.
2) Map your supply chain with an eye to determining potential risks.
Take a close, thorough look at all steps in your supply chain. Especially watch for trouble spots, areas that are vulnerable to rising sea levels, or extreme weather events. Take time to reflect on how the past three years have affected your supply chain. Debrief thoroughly any issues that came up, pulling out all the lessons as well as opportunities for improvement. From there, strategize for the future. What parts or products do you ship that are currently sourced from countries that are across the world from you? How much of your shipping is done by sea? Land? Air? What kinds of possibilities exist to create a "backup" route for any of your goods?
3) Run simulations of your supply chain in a climate scenario.
Simulations are an effective way to see just how resilient your systems and processes are. Consider exploring these in an extreme weather context with your team. Imagine you are an orange juice manufacturer and you just found out about Florida's stunted harvest this season. What will you do? Running simulations gives you an opportunity to prepare an
d plan in a more practical way than just through discussion. A robust plan that is thoroughly prepared will come in handy should things go sideways with a shipment.
4) Map out a climate-resilient plan for your supply chain.
This is the kind of exercise that ideally you never need, but will certainly be glad you have it when you do Consider setting up an in-house task force to work on this in an ongoing way, by determining the lessons from past relevant events and applying these to improve on your systems and processes in a way that leaves them less vulnerable to the disruptions caused by an extreme weather event.
Hope for the best, plan for the worst
The dynamics of the world have shifted dramatically in the past three years and now is not the time for complacency. What can seem like chaos and disruption has the potential to be a gift for your company if you allow it. Taking the time to integrate the lessons you learned from your greatest supply chain challenges and iterating on your processes will fortify your supply chain to be resilient in the face of an uncertain future.
You may not have been prepared for 2020, but can you use that experience to better prepare for 2023 and beyond?
Partner with proactive planning
At Cole International, our departments work together to keep your goods moving seamlessly around the globe. Whatever the future brings, we're prepared. Our long history of moving goods successfully has allowed us to build the relationships and resilience that fortify our optimism for the future. From freight forwarding to customs brokerage, plus all the support you need from a full-service logistics company, we've got you covered. Contact us today and we'll get you on your way.
Proactive planning. It's what we do.