Canada's forced labour policy: Are your imports at risk?
It's easy to feel like the landscape of policies and procedures when it comes to trade between nations is always shifting beneath us. It can be difficult to stay on top of every change, so knowing which changes apply directly to you as a company is always a good first step. Whether you import from the U.S. or other nations, if you don't have a full understanding of how your goods are produced, this article is for you.
What is Canada's policy on forced labour?
You may have read the headlines last winter, wherein several shipments of goods linked to forced labour in China and Malaysia were refused entry at the Canadian border. In all cases, the importing company was faced with stalled movement of goods until they could prove to the government that at no point in their supply chain is forced labour used.
According to the International Labour Organization (ILO), there are an estimated 24.9 million people around the world who are subject to forced labour. There are 11 indicators used to identify forced labour situations or practices – including forced labour in supply chains.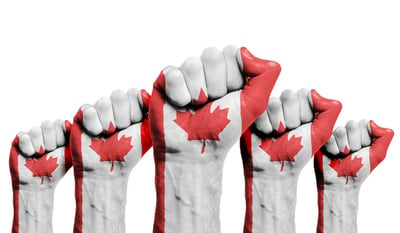 These indicators are:
abuse of vulnerability

deception

restriction of movement

withholding of wages, and

intimidation/threats
Canada has banned importing goods that are produced in whole or in part by forced or compulsory labour—including forced or compulsory child labour. This ban – plus amendments – was enacted into law in Canada in July 1, 2020, as a result of the Canada-United States-Mexico Agreement (CUSMA).
Then, on January 20, 2022, the CBSA updated its policy document on D9-1-6: Goods manufactured or produced wholly or in part by prison labour. The update provides guidance to importers on the evidence they are required to show the CBSA should their goods be detained; namely, proof that any goods the importer brings in are not produced by prison or forced labour. As the CBSA defines it, this policy refers specifically to:
Goods manufactured or produced wholly or in part by prison labour.

Goods mined, manufactured or produced wholly or in part by forced labour.
At the time of writing, the document has been withdrawn for further review while Bill S-211, "An Act to enact the Fighting Against Forced Labour and Child Labour in Supply Chains Act and to amend the Customs Tariff," is under parliamentary review.
Nonetheless, while the bill and enforcement measures are currently under review, it's clear that the more you know about your goods, how they are produced, and the rest of the steps that fill your supply chain, the more success you will have with your imports.
Keep your goods moving
Over the past few years, both the CBSA and the CBP have stopped shipments at the border that were believed to have goods made by forced labour. As the importer, if nothing else, the seriousness of this ban is an invitation to fully understand just how all goods you are bringing in are produced.
Without this understanding, you are at risk of:
delayed shipments

forfeiture of goods

additional expenses to destroy or reship goods to the country of origin.
In other words, if the CBSA suspects any of your goods are produced by prison or forced labour, the goods will be detained. Your company will need to provide evidence that there is no forced labour in your supply chain at any stage, and if sufficient evidence is not provided, the goods will not be allowed entry into Canada. Detention often means delay in clearance and potential demurrage and storage fees. Then, if goods are not allowed entry into Canada they will have to be shipped back to the country of origin or destroyed under customs supervision.
All of these add up to additional costs for your company—costs which are avoidable with a little knowledge and awareness.
Are you at risk?
As an importer, it is always important to know what you are responsible for, whether we're talking about goods classification or valuation of your goods. It's also helpful to understand clearly what risks you face as an importer, a category the forced labour ban falls into.
Ultimately, when it comes to forced labour, the biggest risk is to companies that manufacture or produce goods in target countries. While we won't list all target countries here, one example is China. The reason China makes a good example is because of the attention in recent years to goods being made by the Uyghur population in Chinese-run forced labour camps. In late 2021, President Biden signed the Uyghur Forced Labour Prevention Act into law, which also brought this particular example of forced labour to light.
The reality is, however, China is only one country out of many that use prison, child and forced labour to this day.
Know where your goods come from
When it comes to getting ahead of delays or having to return shipments altogether, the single best practice is this: do your research.
When you are sourcing goods, conducting thorough research is essential. Understand which countries are under suspicion of forced labour practices. Contact your vendors and ask them to provide evidence that their goods are not manufactured using forced labour. Finally, take a comprehensive look at every step of your supply chain to ensure you're in the clear.
Stay up to date
Policy change is to be expected in the ever-dynamic space that is international trade. In the case of forced labour, review the most recent memorandum periodically for updates. Additional information is also available, whether from your customs broker or the CBSA itself, to help you conduct your due diligence and ensure your goods meet the requirements as per the regulations.
Making you aware. It's what we do.