In today's world of fast-paced global trade, the work of the humble trucker is still very much in demand. And despite the proliferation of cargo ships, trains and jet planes taking our goods from A to B, trucks remain an essential part of the supply chain for many consumer goods.
But even though it's been a staple of the
supply chain
for many decades, the trucking industry isn't immune to ups and downs of its own. For the past few years, the North American trucking industry has been experiencing a shortage in available drivers. And that's not the only challenge for the industry.
ELDs
Last year, Electronic Logging Devices (ELDs) became mandatory for commercial drivers in the U.S. and Canada. ELDs automatically
record driving time to ensure drivers take mandatory breaks to comply with driving time limits.
ELDs automatically count time that, before, was excluded because drivers could "stop the clock" if they were stuck in snarled traffic, for instance. The new requirement increases safety but in some cases will also reduce the distance a driver can cover over their shift.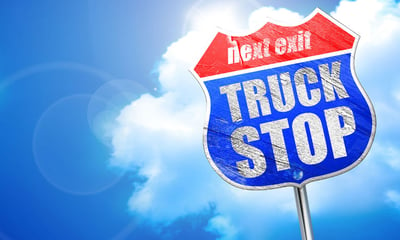 Shippers and carriers already know to account for delays outside of a driver's control – construction, severe weather, accidents and other slow-downs. The ELD requirement has added another factor that affects how quickly goods will arrive at their destination.
Labour force challenges
To attract and retain a labour force, an industry needs to pay competitively and consistently recruit new workers. But according to trucking industry analysts, few of those conditions are being met. A recent study shows that the average Canadian trucker makes about
$49,000 per year. In addition, about 26 per cent are over 55 years old - a larger percentage than other sectors (with the average age expected to hit 50 by 2024). Truckers work long shifts, often exceeding 10 hours. For many in the modern workforce, these conditions
simply do not mesh with their lifestyle, meaning new recruits are increasingly hard to find.
Trickle-down effect
These factors are impacting shipping costs and availability for shippers, carriers and, ultimately, the businesses that rely on trucks to move goods.
Trucking companies have increased rates by up to 10 per cent over the past year to offset increased costs. This may result in a change to shipping costs in some markets.
We can help
Our freight team
keeps on top of industry trends and can help you understand how changes to the trucking industry may affect your business.
Information provided by: Freight Dept. - Cole International