Top 15 Tips for Importing into the USA
Importing goods into the United States isn't exactly a cut-and-dry process. There are many elements to consider when importing into the USA, from the type of product you want to import to the country of origin.
Whether you're brand new to importing or you just want to make sure you remain in compliance, a few tips will help. Here are our top 15 tips for importing into the USA.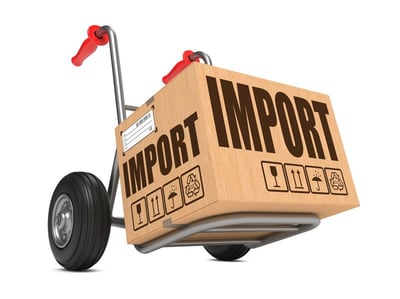 1. Know Your Licenses/Permits
While the U.S. Customs and Border Protection (CBP) doesn't require importers to obtain a license or permit, some of the other agencies involved in the process may require a permit or license. Depending on the goods you plan to import into the US, you may need a specific license, permit or certification from another agency involved in the process.
The appendix found within the "Importing into the United States" document from CBP offers a list of other government agencies that may require a permit, license or certification.
It may be a bit confusing when you look at the CBP entry form and realize this form asks for your importer number. This is not a license or permit number, however. Your IRS business registration number or your social security number will fulfill the necessary requirements. You can also request the CBP assign a number for you by completing form 5106.
2. Choose a Product Supplier You Like & Trust
While the ins and outs of US importing can be quite a bit to take on, choosing the right supplier will make things easier. Before you commit to a specific supplier, you will have the opportunity to speak with them in many ways including through email, on the phone, in person, or through chat. Make sure you choose a supplier you like and trust.
The right supplier will make the importing process easier as they won't add to the headaches you may already have to deal with. It's also a good idea to develop a relationship with your supplier's management team.
3. Consult a Licensed U.S. Customs Broker
While you may legally handle the U.S. Customs process on your own, hiring a licensed Customs Broker in the United States will make the process much easier. Importing into the USA can be a complicated process. With the help of the right Customs Broker, you won't have to worry about your goods making it through Customs.
After you've decided to hire a Customs Broker to help with U.S. importing, you can focus on other areas of your business. Your broker will take care of all the necessary paperwork and ensure your goods remain in compliance with importing regulations and laws.
Your broker will need to be licensed by the CBP. This license shows they understand how to import goods into the United States and have demonstrated the proper experience and knowledge of U.S. Customs.
4. Understand the Regulations for Importing into the USA
All goods are not created equal in the eyes of the CBP. When you decide you want to import goods into the U.S., you need to understand the regulations for the type of goods you plan to import.
For example, if you plan to import fabric of any kind, you'll need to understand the Flammable Fabrics Act, which is overseen by the Consumer Product Safety Commission. Without a full understanding of the regulations for your goods, you may lose your shipment or end up paying penalties.
Those planning to import any type of food need to pay close attention to compliance. The U.S. Food and Drug Administration (FDA) will actually keep food imports if they are not in compliance with the laws of the United States.
If you try to import food and your shipment isn't in compliance, it could be flagged to be demolished. You could lose the entire shipment simply because you failed to handle any possible food compliance issues before your shipment arrived at the border.
While not all goods are as strictly regulated as food or textiles, importers should always pay close attention to potential compliance issues. Hiring a Customs Broker in the USA with experience importing the types of goods you plan to import will ensure you remain in compliance with every shipment.
5. Avoid Importing Goods into the U.S. that Violate Intellectual Property Rights
Knock-off or counterfeit goods have become a larger focus for CBP. With the crack-down at the border for knock-off and counterfeit merchandise, you'll want to avoid trying to import goods in violation of intellectual property (IP) rights.
If you're caught trying to import goods into the U.S. that violate IP rights, your shipment may be destroyed. Even if CBP decides not to destroy your goods, you'll have to deal with the expensive process of exporting the goods to another country.
When importing trademarked goods, you want to make sure you have a clear paper trail giving you permission from the company/person holding the trademark. You will need to show evidence of your legal right to import the goods when they arrive at the border.
6. Get the Labeling Right
With some products, you will need to follow specific labeling requirements to remain in compliance with the U.S. importing laws and regulations. Inadequate labeling is a very common reason for a shipment getting rejected when it arrives at the U.S. border.
With food, for example, the label will need to show the weight in ounces for the United States. If the label only shows kilograms or grams, it will likely be rejected.
Double-check your goods with your supplier and make sure they understand the labeling requirements for importing into the U.S.. Before working with a supplier, ask for samples. This will ensure you get to check for proper labeling before a full shipment arrives at the border.
7. Know the U.S. Customs Process
When you hire a Customs Broker in the United States, you won't need such a deep understanding of the Customs process. However, if you go at it alone as the "importer of record" you'll need to know the process inside and out. Some of the things you'll need to understand include:
How to obtain a U.S. Customs bond for your shipment
How to properly fill out packing lists and commercial invoices
The amount to pay for duties and tariffs, along with how to pay these fees
How to properly label boxes
Whether or not your goods will require prior notice of shipment, such as giving the FDA prior notice for food shipments
Additional fees you may be charged if your shipment requires an examination or has to be stored for inspection
There are several intricate details you will need to understand about the U.S. Customs process if you plan to import goods into the USA. Without a good understanding of the process, you may suffer delays because your boxes weren't properly labeled or your shipment arrived on a wood pallet without the correct stamp.
8. Research General Quota Information & Requirements
Before you decide to import goods into the U.S., it's a good idea to research the import quota information and requirements. The CBP uses import quotas to control the volume of some commodities entering the United States during specific times.
There are two types of quotes used by the United States:
Absolute Quotas - Usually, these quotas apply to textiles and provide a strict limit for the quantity of goods entering the commerce of the U.S. during a specific time. In some cases, there will be no absolute quota restrictions.
Tariff-rate quotas – These quotas may allow a specific quantity of goods to enter the United States at a reduced rate of duty. After the quota has been reached, it's still possible to import more of the same goods, but at a higher rate of duty.
The Quota page from the CBP website explains more information on the current quotas. In addition, a Customs Broker in the USA will stay up-to-date on current quotas and ensure you remain in compliance with all potential quotas.
9. Know the Free Trade Agreements
A Free Trade Agreement (FTA) may allow you to import goods at a reduced rate of duty. The United States has FTAs in place with several countries around the world including:
Australia
Canada
Mexico
Bahrain
Chile
Colombia
Israel
Jordan
Korea
Costa Rico
El Salvador
Honduras
Peru
Panama
Singapore
And more!
If there is an applicable FTA for your imported goods, it will likely help you save money. You can find a full list of the current FTAs on the CBP website here.
A few additional tips for importing into the USA include:
Understand Importer Security Filing (ISF/"10+2) for ocean vessel shipments
Properly compute measurements and weights before shipment
Make sure you're using the correct value for your goods
Keep records proving you used Reasonable Care
Consult an expert if you receive a CBP 28 or CBP 29
Always petition penalties and liquidated damage claims
Importing into the USA can be a complicated process. However, it doesn't have to be so overwhelming.
When you're in the business of importing products from another country into the United States, it helps to have an expert on your side. At Cole International, we provide physical offices near many of the major ports of entry in the U.S.. Our team of experts will help to ensure your goods make it through U.S. Customs without delay.
Even if your goods become delayed, we will help fight to ensure you only pay the necessary fees and your goods are properly released. If the U.S. Customs process seems too overwhelming or you want a professional Customs Broker on your side, we're happy to help. Contact us today and find out how hiring a Customs Broker in the U.S. will make a difference when importing goods into the United States.
Importing Goods Into The U.S. It's what we do.