As savvy importers – and current-affairs watchers – know, taxes, tariffs and retaliatory actions are adding significant costs to the import of many products. Not long ago, we ran a
blog on steel and aluminum tariffs
, so head there for a bit of history.
Given the significant cost new U.S. tariffs are adding to steel products, folks in the steel industry are concerned that steel goods previously bound for the U.S. could be diverted to other markets – including Canada – where import costs are lower. Because of this, the Canadian government has taken the unusual step of applying a provisional safeguard surtax to most steel products imported into Canada – subject to the provisions outlined below.
Why?
According to international trade lawyer Lawrence Herman (and as reported in the
Financial Post
), "These are extraordinarily difficult times for large parts of the Canadian steel producing industry and exceptional measures have to be taken… Some industries may find it affects them negatively, but [these] safeguards are there to allow for a period of temporary relief allowing the industry to adjust to unforeseen and unusual circumstances…"
The Nitty-gritty
The provisional tariff rate quotas (TRQs) apply to seven steel products: heavy plate, concrete reinforcing bar, energy tubular, hot-rolled sheet, pre-painted steel, wire rod and stainless steel wire.
The quantity of goods that may be imported under each TRQ in a fifty-day period is as follows: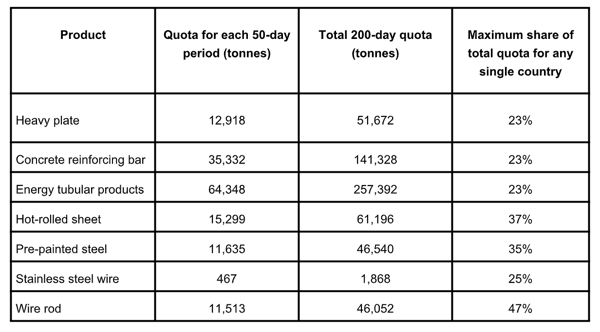 Once total imports meet the quantity threshold, or any single country meets their percentage of the total threshold, permits will no longer be issued for imports originating in that country and imports will be subject to a 25% surtax.
Exceptions
The surtax applies to the import of the steel products listed above, with the following exceptions:
Goods originating in and imported from the U.S. or from Chile, Israel or any other CIFTA beneficiary.

For steel goods originating in and imported from Mexico, the order only applies to energy tubular products and wire rod.
Goods originating in and imported from developing countries which are beneficiaries of the General Preferential Tariff (GPT), with one exception: the provisional surtax will apply to concrete reinforcing bar originating in and imported from Vietnam.
A complete list of exceptions is found in Appendix A of

Customs Notice 18-17.
Additional Resources
Information provided by: Canadian Customs Consulting Dept. - Cole International