Inspections at marine ports of entry can cause major headaches for importers. They are supposed to be quick and efficient… weed out the bad apples and let the rest get on with business, right? So why were your goods stalled for so long – at great expense to you?
Container inspections in Canada
The Canada Border Services Agency (
CBSA
) operates marine container examination facilities in Halifax, Saint John, Montréal, Prince Rupert and Vancouver. The agency is tasked with facilitating the movement of legitimate goods into Canada – and preventing entry of illegal goods.
Importers experience particularly troublesome delays at Vancouver's marine ports. Port Metro Vancouver is the busiest in the country, with its four terminals receiving more than 1.5 million containers every year. The CBSA examines about four per cent (around 50,000) of these. And even though CBSA's official examination period is 24 hours, any importer will know that it takes far more than this to clear the whole process – the time elapsed from landing the goods, through various waits through to the end of the inspection sometimes takes up to six weeks!
Importers pay
Importers bear the costs incurred for these exams. Depending on the type of examination, the direct cost of an inspection can range from $500 to $5,000 CAD per container. Variables such as how the goods are packed in the container, the ty
pe of goods and whether the contents are palletized can all affect the cost of an exam.
Importers are also responsible for indirect costs, such as damage to or loss of goods during an exam, storage fees, lost sales, spoilage (in the case of perishable goods), and production or contract penalties due to delivery delays.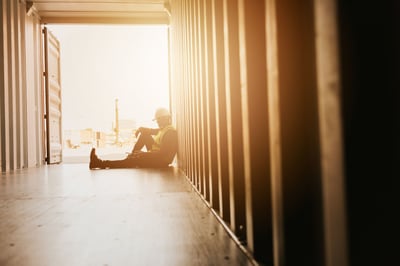 How can you be prepared?
CBSA officers apply predetermined criteria to decide whether a container should be examined for contraband and to ensure compliance with import regulations. However, the details of this determination are not divulged. To a certain extent, then, whether your shipment will
be examined or not is out of your control.
You can, however, take steps to be prepared.
Importers can typically expect an increased chance of an exam when importing from overseas for the first time or from countries seen as higher-risk. Therefore, think twice before importing a large container for a first
import into Canada
. It may be better to make your first import a smaller one - shipped by airfreight or courier - so you can experience the process on a smaller scale. Then, if needed, refine your process before moving on to larger shipments in marine containers.
However you choose to import, and regardless of the scale, teaming up with a customs broker from the start is always recommended. Brokers have a thorough understanding of the current regulatory environment and are experienced at navigating the customs process.
Help is on the way
CBSA's eManifest program, soon to be fully functional, will streamline the customs clearance process for legitimate trade while also improving the CBSA's ability to detect high-risk shipments before they arrive at the border. This program requires importers and freight forwarders to send advance commercial information about their shipments electronically to CBSA, shortening the processing time once customs receives the goods.
A new Marine Container Examination Facility is set to open soon in Tsawwassen that will expand examination capacity for goods entering through the Ports of Vancouver. The opening of this facility will also coincide with the new CBSA marine container examination program, which will focus efforts on technology (scans) rather than manual inspections.
And of course, we are on your side. Our consultants can work with you to ensure every shipment is ready to go, with all the correct documentation signed and sealed. So, even if your container is selected for an inspection, we can help ensure the process goes as smoothly as possible.
Information provided by: Freight Dept. - Cole International