CARM Release 1 is just around the corner, projected for May 2021. The first step in the process for all importers and brokers is to register on the CARM Customer Portal (CCP).
Brokers are encouraged to register within the first month of Release 1. Importers need to register before Release 2 (May 2022).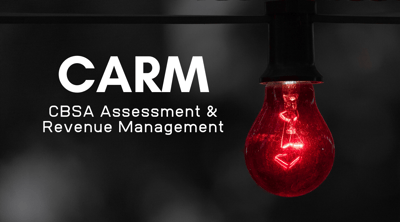 Why? Registration is the first step to gaining access to the portal's functionality. You also need to register in order to delegate access to your broker before Release 2. (We will be publishing a post on delegation soon. Stay tuned.)
Access to the portal will be live this spring—at that time, a URL to the CARM portal page will be available. We will update you as soon as a URL is available.
Onboarding onto the portal
Here are the steps for onboarding your business and employees to the portal:
Step 1: If you are a new importer, get a business number and RM (Import/Export) account through Canada Revenue Agency.
Step 2: Every person who will be using the CCP must create their own individual user portal account.
Step 3: Link your individual user account with your business account.
Step 4: Grant access to employees and service providers to your business account (Delegation of Authority).
Step 5: Conduct business with the CBSA through the CARM Customer Portal.
Creating a user profile
Before any business information is added to the portal, you must create an individual user account or profile. To create your account you'll log in using a sign-in partner (a financial institution, bank, credit union) or a GCKey.
This will bring you to the CCP page where you will create a personal profile.
Register a business
Next, you'll register your business.
Please note: the first person to register the business is known as a Business Account Manager (BAM). It is encouraged that you have at least two BAMs associated with your business account.
The BAM registering the business will need to enter pertinent information including the unique business number (BN9), program reference number, address information. They will also need to answer several verification questions, such as recent transaction information.
Please note that if your business has multiple RM numbers, you only need to enter one and the others will populate. However, you will need to answer the affinity questions associated with the RM number that you enter in order to verify your business.
Link employees to your business account
Once the business has been registered, employees can link their individual profiles with the business. They do this by creating an access request. The request is sent to the BAM associated with the business account, who then grants access. The employee will then receive notification that their request has been approved.
We will be sharing more information about linking employees and service providers with your business account (delegation) soon.
If you have further questions, Cole is here to help. Please do not hesitate to contact your local account manager or EMAIL US today.
Require a customs bond? CLICK HERE to submit a request and one of our CARM representatives will contact you directly.
Explaining CARM. It's what we do