Insurance and freight: everything you need to know
We've covered the importance of having cargo insurance, but this week, we go in-depth about the carrier's legal liability and what type of insurance coverage will protect your goods from warehouse to warehouse, giving you the control you'll need in the event of loss or damage.
Doesn't my carrier insure my cargo?
No. It's very important to understand the difference between a carrier's legal liability and cargo insurance. (And extra important to know this before any loss or damage occurs.)
Carriers do not provide importers/exporters with insurance coverage. They do have legal liability. However, in many cases, carriers limit their coverage to less than the declared value of your cargo.
Meaning: the carrier is only responsible for damage or loss resulting from their own negligence up to a maximum outlined in their own legal liability policy. This value is often not clearly communicated to you, the importer/exporter.
Declaring your goods' value to a carrier is not the same as providing insurance protection for your merchandise.
Recovering loses directly from the carrier can be difficult. A shipper must:
Prove the loss occurred while their cargo was in the carrier's possession
Prove the carrier caused the damage
Prove the carrier was negligent
Remember: A carrier will only be liable for the limits of liability listed under the carrier's trading conditions, airway bill, or bill of lading.
Cargo insurance, on the other hand protects shippers more comprehensively.
What kind of cargo insurance do I need?
Cargo insurance covers physical damage to or loss of goods while in transit by land, sea, air, or while being warehoused during the course of transit.
However, some policies are not comprehensive, such as "total loss" policies. And as we covered above, relying on the carrier's legal liability policy leaves you responsible for proving the carrier at fault for any damage.
So what kind of coverage will protect you comprehensively?
"All-risks" cargo insurance protects you against loss or damage subject to the cargo policy's terms and conditions. It is not necessary to prove the carrier was negligent to collect upon a claim, only that damage or loss occurred.
For cargo insurance, the insurable value is the value of the goods plus the freight charges, and you can overinsure up to 10%.
"All-risks" cargo insurance covers shipments from point of departure until point of final delivery for the insurable value of the damaged or lost goods. This warehouse-to-warehouse coverage ensures your goods are covered for a wide range of risks.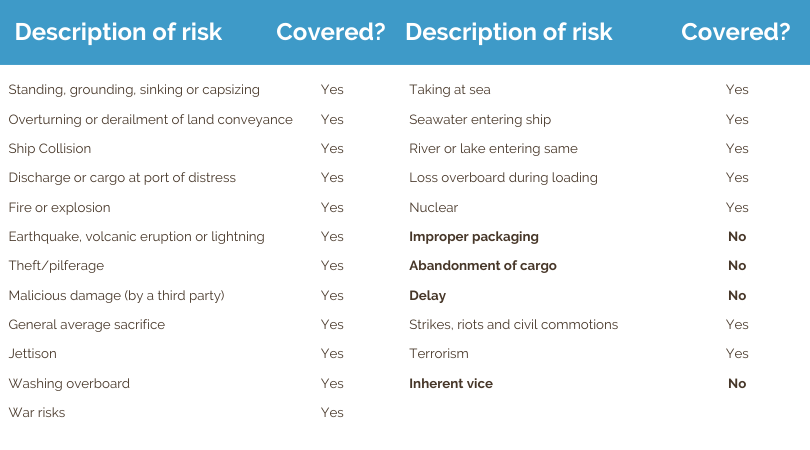 Can my freight forwarder help?
Freight forwarders often have arrangements with insurance companies to offer all-risks cargo insurance at reasonable rates.
If you've purchased cargo insurance through your forwarder, they will often handle your claims, issue the certificate, and perform all administrative functions required to protect your freight.
Otherwise, it may be up to you (the owner of the goods) to process any claims against the carrier(s).
Other freight insurance considerations
When exporting, trade on CIF (cost, insurance, and freight) Incoterms with "warehouse to warehouse" terms to ensure your product is fully insured from point of departure all the way to the final destination.
If you sell on CFR (cost and freight) Incoterms, you're still responsible for insuring the inland transit portion to the loading dock. If you arrange the freight, you should also arrange the cargo insurance.
Insurance costs can sometimes be hidden in product and shipping charges. If it's unidentified on a commercial invoice, you may pay unnecessary duty, taxes, and fees on this insurance amount. Ensure that all insurance costs, and all transportation costs for that matter, are specifically broken out.
Be especially mindful when working with foreign insurance policies and providers. Foreign claims can be time consuming and end up being paid out in a foreign currency. Foreign policies also may not offer a General Average guarantee. If a General Average is declared, you'll have to post a cash deposit to get your product released.
Common insurance and freight misconceptions
"I already have an insurance policy." If so, ensure that your policy has wide, transportation-specific "all-risk" coverage. Double-check your deductible—often they are incredibly high, in some cases up to $25,000. Your freight forwarder may be able to get your deductible as low as $350.
"The carrier already insures my freight." They don't; they have legal liability. Usually their legal liability policy covers less than your freight's actual value, usually $2/lb in Canada/U.S., and much lower in Mexico. Additionally, a carrier will only pay out after you have proven that they were directly responsible for damaging your freight and your freight was in their possession at the time of damage. No carrier will pay out losses that occur beyond their control.
"Nothing will happen to my freight. I've never made a claim before." Approximately 30% of in-transit damage is usually unavoidable. Make sure your goods are protected against these risks. If you don't purchase cargo insurance, General Average will not be covered at all. Learn more about General Average here.
Other best practices to ensure your goods get there safely
Beyond buying all-risk insurance coverage, proper packaging is another crucial element to safe travel for your cargo. Always package your cargo to withstand the roughest part of the transportation journey. Include sensors and/or tracking for high value shipments.
With more than half a century of moving freight safely, we can help guide you to the most comprehensive insurance coverage to make sure your goods arrive in great shape.
Learn more about our Freight Forwarding Services
Freight Insurance. It's what we do.
Information provided by: Freight Dept. - Cole International