Importing wood products 101
Wood products like timber, cork, wallpaper, and books account for 14% of U.S. imports from Canada. Canada is the United State's main supplier of wood.
Due to the wide range of wood products and packaging, before importing wood products or wood packaging into the U.S. or Canada, it's best to check with the relevant regulatory bodies to make sure your information is up-to-date.
Review our in-depth post on wood and wood packaging here.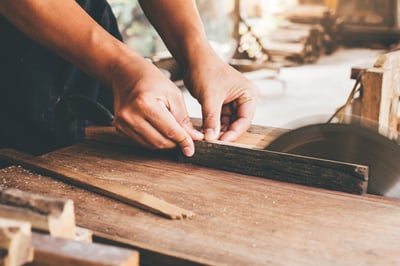 Softwood duty update 2021
Duty rate reductions for softwood lumber imports from Canada were agreed upon at the 2020 U.S. Administrative Review. These reductions took effect in November of 2020.
However, an Administrative Review in spring of 2021 reversed these reductions. So, as of November 2021, softwood lumber duty on Canadian imports to the U.S. are back up to approximately 20%.
Importing wood products and wood packaging into the U.S.
Importing wood
The Animal and Plant Health Inspection Service (APHIS), part of the U.S. Department of Agriculture, regulates the movement of wood, plants, and related materials across the border to ensure pests or diseases do not enter the country.
Make sure you have the proper forms from APHIS before importing wood into the U.S.
Read our post covering the details of import requirements for wood entering the U.S., including:
Exemptions and special cases, such as wood imported from China

Documentation information

Links to U.S.-based resources
Importing wood packaging
Most wood packaging material (WPM) brought into the U.S. must have been treated using heat or chemicals in order to prevent the transmission of timber pests.
The treated material must display a visible, legible, and permanent mark certifying this treatment in accordance with international standards (as per the International Standards of Phytosanitary Measures).
Read our post detailing the requirements and exemptions for importing wood packing material into the U.S.
Importing wood products and wood packaging into Canada
Importing wood
The import of wooden and wood-containing products into Canada is regulated by the Canada Border Services Agency (CBSA) and the Canadian Food Inspection Agency (CFIA). In specific circumstances, they may also be subject to provisions under CITES (the Convention on International Trade in Endangered Species).
Most wood articles will require one or more of the following:
Plant Protection Import Permit (from the CFIA)

Phytosanitary Certificate (from the exporting country)

Phytosanitary Certificate for Re-export (for U.S.-origin goods, from the USDA)
The most current information about permits (as of November 2019) can be found here. Note: there have been recent changes made to permit CFIA 5256, Permit To Import Plants And Other Things Under The Plant Protection Act.
For more, in-depth information about how CBSA classifies different kinds of wood products, read:
Importing wood packaging
Wood packaging material must be officially treated with one of the methods listed in Appendix 1 of Directive-D98-08. This directive is the most comprehensive resource for information on wood packaging entering Canada.
The best place to start, however, is the CBSA's very accessible Wood Packaging Questions And Answers page.
Our dedicated team of Customs experts are well-versed in all the current requirements for importing wood products and packaging into Canada and the United States. Reach out today—we're ready to help.
Importing wood. It's what we do.