Freight forwarding basics: proper packaging
Great packaging can mean the difference between a shipment arriving unscathed to its destination and one that is damaged or lost along the way.
According to the Institute of Packaging Professionals (IOPP), carriers may load/reload packages as many as five times during a relatively short distance shipment—and even more loading, unloading, and sorting happens on long hauls.
Cargo shipping presents a number of possible dangers, but the five main transportation hazards your shipments may face are:
Shock

Vibration

Compression

Extreme climate conditions

Altitude
Your packaging needs to be able to withstand these hazards and the expected wear and tear of domestic and international transportation.
Check your carrier's requirements and restrictions
Each carrier has its own terms and conditions that affect freight packaging. It is the shipper's responsibility to determine if their freight shipments meet those carrier's Terms and Conditions.
Common requirements and restrictions include: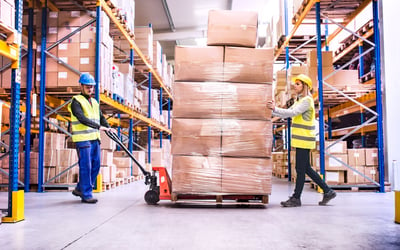 Size limits

Weight limits

Perishables

Labeling

Special commodity packaging instructions

Shipments requiring advanced arrangements

Not acceptable items

Limitation of liability

Maximum declared value
It's also useful to define or determine which type of load your goods are part of or constitute.
Easy loads
Moderate density items that may completely fill the container. They aren't readily damaged by puncture or shock, don't shift or move inside the package system, and don't present a hazard to other freight shipments.
Average loads
Moderately concentrated items that provide partial support to all surfaces of the container. Average loads can be placed directly in the shipping container or use intermediate packaging.
Difficult loads
Items that require a lot of protection to prevent puncture, reduce shock, and don't support the container. Fragile objects, delicate instruments, or items with uneven weight distribution may fall into this category.
Some packaging pro tips
Palletize your shipment

to ensure handling efficiency and reduce package damage.

Include a packing/

handling base to maintain package orientation, efficiency, safety, and protection.

Shipments should be stackable, or you may be facing a surcharge with some carriers.

Temperature fluctuations are likely.

Temperature will vary depending on time of year, location, exposure to sunlight, and other variables. Summer temperatures in cargo areas can be up to 30 degrees higher than the temperature outside.

Use unbreakable banding on large pieces.

Band individual pieces over 150 lbs. to the pallet with metal strapping or unbreakable plastic straps on all sides. Hardened containers like plywood or metal that aren't banded should have an exterior lock or clamp.
Packaging materials for shipping large items
Boxes aren't the only way to pack your goods. Here are some other packaging materials you can use to pack and ship your freight.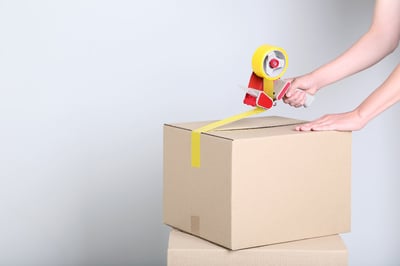 Shipping pallets

Shipping crates

Freight boxes

Bagged products

Drums and pails

Spools and reels

Transit cases
Securing freight shipments
To protect against shock and vibration, most products need protective packaging like cushioning, bracing, or wrapping. A few ideas to consider:
Foam cushioning

Blocking

Bracing

Load protectors

Edge or angle boards

Bands

Stretch wrap (use 70-gauge)
Don't forget the labels
Clearly labeled goods are goods that are handled correctly and delivered to the right place!
Ensure that the labels are easily visible. For fragile items, considering labeling the box with a picture of the freight.

Make sure your label communicates everything your carrier needs to know about your freight: delivery address, handling instructions (fragile, top stow only, this way up, etc.)

Don't put labels directly onto the surface of your goods, as this could cause damage
Check out Cole's Shipping Tools for more freight forwarding resources. And remember: experience, expertise and a commitment to service is what makes a freight forwarder great. Let us put our greatness to work for you.
Freight Solutions. It's what we do.