Trade attorneys have confirmed the Canada-U.S.-Mexico Agreement (CUSMA, USMCA, T-MEC) will enter into force on July 1, 2020.
The U.S. has now completed its domestic ratification process, a step the other two countries completed earlier this month. All three countries are now ready to proceed to the next step, creating "uniform regulations" that will govern how the language of the deal is to be interpreted.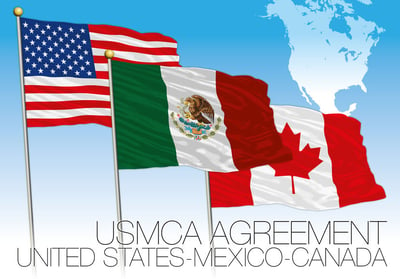 On the current timeline, the deal will take effect on July 1, 2020.
The new trade agreement represents some noticeable changes for importers. For example:
the importer, exporter, or producer will be able to complete the Certificate Of Origin;
the new agreement allows for a four-year refund window (changed from the current one year);
the rules of origin for automotive, agricultural, and textiles have changed dramatically;
the de minimis rule related to non-originating content is changing to 10% from 7%; and
the Low Value Shipment threshold is increased to CA$3,300 from CA$2,500.
The uniform regulations, which clarify the rules, including terms and phrases used throughout the agreement, are not yet available. So, how these changes impact businesses is not yet totally clear.
We will continue to update our readers as the interpretation of the deal becomes clarified.
Our Customs Consultants are prepared to assist with preliminary assessments on how the current USMCA/CUSMA rules of origin may impact your products once the agreement is enforced. Contact us today.
Information provided by: NAFTA & Free Trade Dept. - Cole International
Understanding Free Trade. It's what we do.
Suggested Articles on the new North American Free Trade Agreement:
Canada passes CUSMA implementation legislation - no ratification yet