The global pharmaceutical market is booming, having grown an estimated 23 percent over the past four years to its current estimated US$10.28 billion value. Shipping and handling of pharmaceutical products is a specialized process that requires care and expertise to ensure product safety and efficacy.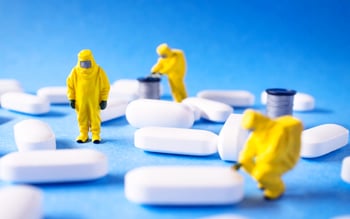 A concerted effort is underway to improve standardization, accountability and transparency in the pharmaceutical supply chain, with airports and transportation companies pursuing certification in standardized pharmaceutical handling practices.
This certification is provided by IATA – the
International Air Transport Association
, an international airline trade association representing 82 percent of all air traffic – and lends credibility and oversight to pharmaceutical handling practices by organizations along the supply chain.
In concert with aviation industry stakeholders and regulators, IATA created the
Centre of Excellence for Independent Validators in Pharmaceutical Logistics
(CEIV Pharma). CEIV Pharma ensures that facilities, equipment, operations and staff comply with the standards, regulations and guidelines required by pharmaceutical manufacturers. The overall goal is to elevate the industry expertise and achieve global standardization.
Edmonton International Airport is in the process of becoming the first Canadian airport to attain this certification. We are also pursuing CEIV Pharma certification – adding yet another area in which we can effectively and proactively serve our customers and our community.
Looking for more information? Our experienced
supply chain
professionals are here to help.
Information provided by: Freight Forwarding Dept. - Cole International