5 logistics essentials for e-commerce companies
E-commerce is a massive industry accounting for 3.5 trillion USD in sales globally in 2019—and that number is only projected to rise.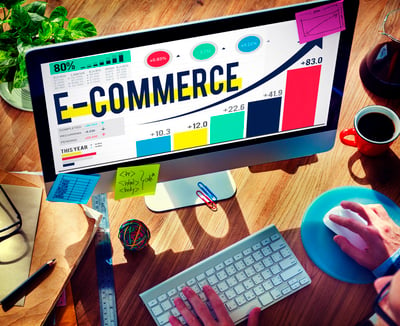 E-commerce companies have unique logistics considerations, including door-to-door delivery, international shipping (and documentation requirements), variable shipping fees, along with geographical and packaging concerns.
Smooth e-commerce logistics requires:
Correct documentation.
Seamless delivery plans.
Reliable carriers and brokers.
This week, we break down five logistics essentials for e-commerce.
1. Door-to-door delivery
To fulfill their unique customs and freight needs, e-commerce companies need to consider:
fulfillment possibilities;
the Canadian postal system; and
courier companies, all of which deliver directly to the consumer's door.
2. International documentation
Knowing the relevant customs regulations of the country you're shipping to, and understanding the documentation requirements are essential for international shipping.
Understand the customs requirements of the country you are shipping to as it relates to your product.
Talk to your logistics provider or customs broker to ensure your documentation is sufficient to expedite clearance.
Relevant permits and/or certificates can help ensure on-time shipment and repeat customers.
3. Predictable costs for your customers
The costs of shipping and customs clearance are always changing. This can be a challenge when trying to provide your customers with the landed costs of their goods.
Hidden costs such as customs clearance fees, duties and taxes incurred by the consumer may impact repeat purchases.
Determine the accurate tariff classification and country of origin to assess any associated customs costs, such duty and taxes of your products.
Work with a customs broker or logistics company that can provide customs services in the country of destination to negotiate clearance fees for your company.
Make it easy for your online customer to do business with your company by providing the final costs when they checkout online.
4. Valid delivery addresses
Invalid postal codes or delivery addresses can result in failed delivery attempts and returned shipments leading to additional costs and or lost sales.
Understanding the geography of where you are shipping to can prevent delays and additional transportation costs.
Ensure your ERP (enterprise resource planning) or shipping system has a way to validate the shipping address and postal code to ensure your shipment gets delivered on the first attempt.
Make sure your shipping API or communication protocol with your courier is up to date.
5. Packaging and shipment requirements
Clear understanding of the packaging and shipment requirements of your product can prevent additional costs such as accessorial fees for special handling of goods.
Make sure to understand if your product will attract additional costs with your transportation provider.
Review your terms and conditions with your courier and transportation provider and understand all accessorial costs.
Understanding the packaging requirements will also reduce the possibility of damage.
At Cole International, we are proud to be a full-service logistics provider integrating freight forwarding and customs brokerage to serve e-commerce companies across North America.
Logistics essentials. It's what we do.