4 Ways To Improve Customer Service With Your Supply Chain
With the impacts of COVID-19 causing disruptions through summer (at least), companies are thinking seriously about how to stabilize their supply chains.
Here are four ways to improve your customer service with your supply chain, along with some of the trends we've been seeing in supply chain management as a result of this global event.
1. Performance measurement
The events of 2020 have brought about a change in importer behavior and expectation. Before the COVID-19 pandemic, importer priorities were:
On-time pickup and delivery
Customs clearance
In the first two months of the year, total commerce in China dropped 20%, but online/e-commerce rose by 3%.
There has been a shift toward online commerce.
In fact, the pandemic seems to have been the stimulus to push some companies into e-commerce. Your customers' expectations have changed, and now you are changing to meet those expectations.
2. Inventory measurement
With an unpredictable global market and changing customer behavior, businesses need a flexible, agile supply chain. In the case of COVID, we have seen significant supply issues for both personal protective equipment (PPE) and toilet paper, for example.
The catch-22 is that out-of-stock inventory damages customer loyalty, but storing too much inventory is costly.
Balance requires having a flexible, agile supply chain to satisfy customer demand. Agility allows supply chain partners to work together to produce, ship, and store the amount of product that is needed daily, not based on monthly forecasts.
The transportation landscape has changed with 3 million containers taken out of the system, and many airlines shifting to cargo to pick up some of the demand. How rapidly will carriers restart or convert back?
Inventory will be in demand when global production rebounds. China is slowly recovering, and we predict an increase in activity in the coming months.
Industries caught with too little inventory won't be caught again. This means increasing safety stock, which requires a place to store it.
One strategy we are seeing is pop-up fulfillment centers. These centers get products closer to the end customers, reducing last-mile transportation and delivery times.
3. Logistics coordination
Customers expect on-time delivery, even in the midst of a global pandemic. We've also seen a shift toward online ordering and delivery as an expectation. And yet, more than half of all ocean shipments are late. Period.
So, how do businesses balance these opposing realities?
There are five ways:
Diversity in delivery options
Proactive order management and recovery
Capacity forecast sharing with carriers
Carrier allocation management, and
Online appointment scheduling
Most of these solutions are technology-based and we'll dig into them in the next section on automation and integration.
But in terms of transportation, ensuring you and your logistics partner has access to all modes of transportation is critical to faster delivery for your customers:
Air,
Rail,
Trucks, and
Ships.
4. Automation and integration
Beyond access to diverse delivery options, your business needs automation and integration in order to consistently fulfill your delivery promises to customers.
This means:
Anticipating what you're going to need
Sharing that information with your carriers
Ensuring your carriers can meet your transportation needs, and
Having the ability to schedule everything online.
Proactive communication means being connected to both your customers and your suppliers. Technology provides that ability to forecast and connect.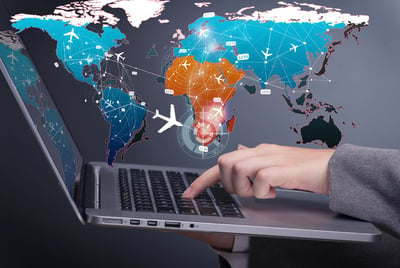 There are many supply chain software options depending on the size of your business, such as:
ShipStation (small to medium-sized companies)
Logicor (medium-sized companies)
SAP Ariba, Oracle, Manhattan Associates, Infor, Logility (large companies)
Supply chain software features include:
Procurement/demand management systems
Transportation management systems (TMS)
Warehouse management systems (WMS)
Order entry systems
Inventory replenishment systems
These features allow you access to information and visibility so that you are better able to respond to changing customer needs and behaviors. It also allows you to share information proactively with your logistics and carrier partners to streamline your transportation, Customs, and warehousing needs.
Cole is proud to be a full-service logistics partner working closely with businesses as they respond to the changing global market. Contact us today to learn how you can improve your customer experience by maximizing your supply chain.
Keeping you in the loop. It's what we do.