Six tips for shipping gifts during the holiday season
More than 3 billion packages were shipped between the United States Thanksgiving holiday and Christmas in 2022, according to ShipMatrix projections.
You know that the holiday season will always experience a flurry of shipping activity. Shippers and gift-givers can ensure that packages arrive securely and on time by following six useful tips for shipping gifts during the holiday season.
1. Align with the customers' shipping needs.
It's best to plan ahead and allow extra time for unforeseen delays when shipping gifts during the holiday season. Your customers might not follow this advice, so you'll need to help them choose the appropriate shipping method to ensure on-time delivery.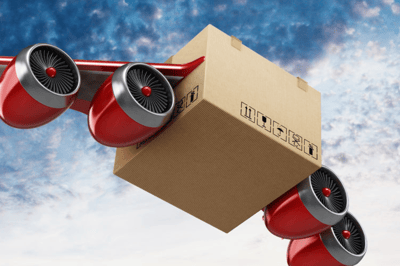 Airmail typically offers the fastest delivery time compared to ground shipping. The trade-off? Higher shipping costs per package weight. Balancing cost and the speed of delivery will make some customers happy, while others may prioritize price or speed.
Flat-rate shipping is another option to consider. Flat-rate boxes are less expensive because they have a set price per box, so the price doesn't depend on weight or distance travelled. If you have several small items to ship to a single location, a flat-rate box can be the best way forward.
2. Get shipping insurance.
Shipping insurance is a great way to protect your package from damage, loss, or theft. There are different levels of insurance provided. Make sure you know what's covered and what isn't before you buy additional coverage. When reviewing your policy, make sure that all relevant details are covered by your policy, such as how payments work and the amount of time that must pass before an insurance claim can be investigated.
For expensive gifts and items of sentimental value, consider purchasing additional insurance protection. The cost of insurance is often included in shipping prices, but it might not fully cover the value of the items shipped.
3. Package your gift securely.
It's important to pack gifts in the right-size package. Gifts packed into boxes, envelopes and containers that are too large or small increase the likelihood of the item becoming damaged in transit. If the gift barely fits, use a larger package. If the package has too much extra space, use bubble wrap or other packing materials to cushion the item.
Avoid packing fragile products with heavier gifts that could damage the more delicate items. Use strong packing tape to seal all sides of the box securely.
4. Include all necessary documents.
Whether you're shipping gifts for customers or sending a gift to your best friend, always provide the necessary documents, such as a packing slip and required customs forms. It's also good practice to provide insurance paperwork so that if your package is lost, damaged, or stolen during transit or delivery, the recipient can file an insurance claim with the carrier or postal service.
5. Track your package.
Use a tracking number. It's important to know the location of your package, so make sure you get one from the shipper and keep it handy. International shipping companies typically offer the option to sign up for email notifications, so you can stay updated on when the items have been shipped and when it arrives at their destination.
6. Know international shipping regulations
Take the time to research the customs regulations for your destination country, so you know what items are allowed into the country and what fees they charge for importing goods. These details will help guide your decision when choosing your gift shipping method and shipping company for your international delivery.
Some countries have very strict regulations regarding food items or declaring the value of goods when they arrive at the border. If your goods don't meet requirements, have been banned, or aren't correctly declared, they may be returned to you. In the worst-case scenario, improperly declared goods could be delayed, seized, or even destroyed.
The holidays should be a time to enjoy family and friends. Reach out and contact one of our experienced logistics specialists to make holiday gift shipping easier.
Your encyclopedia of Freight Solutions. It's what we do.